Senior Fellow


Expertise: Eurasian states in transition; nation and state-building, US foreign policy, global emerging market risk.
Ian Bremmer is the president and founder of Eurasia Group, the leading global political risk research and consulting firm.
In 1998, Bremmer established Eurasia Group with just $25,000. At present, the company is the leading global political risk research and consulting firm, with offices in New York, Washington, and London, as well as a network of experts and resources in 90 countries. Eurasia Group provides analysis and expertise about how political developments and national security dynamics move markets and shape investment environments across the globe.
Bremmer created Wall Street's first global political risk index (GPRI). He is the founding chairman of the World Economic Forum's Global Agenda Council on Geopolitical Risk and is an active public speaker. He has authored several books including the national bestsellers Every Nation for Itself: Winners and Losers in a G-Zero World and The End of the Free Market: Who Wins the War Between States and Corporations? Bremmer is a contributor to the Financial Times A-List and Reuters.com. He has written hundreds of articles for publications including The Wall Street Journal, The Washington Post, The New York Times, Newsweek, Harvard Business Review, and Foreign Affairs. He appears regularly on CNBC, Fox News Channel, Bloomberg Television, National Public Radio, the BBC, and other networks.
Bremmer earned a PhD in political science from Stanford University in 1994 and was the youngest-ever national fellow at the Hoover Institution. He is a global research professor at New York University and has held faculty positions at Columbia University, the EastWest Institute, and the World Policy Institute. In 2007, Bremmer was named a Young Global Leader of the World Economic Forum. His analysis focuses on global macro political trends and emerging markets, which he defines as "those countries where politics matter at least as much as economics for market outcomes."
Bremmer grew up in Boston and currently lives in New York and Washington.
Honors & Affiliations
Co-founder & co-president, Center for the New Internationalism;
Recipient of grants from the Starr Foundation and the Ford Foundation; National Fellowship, Hoover Institution;
Post-Doctoral Research Fellowship, Title VII Grant from the Department of State; Hrair Hovnanian Fellowship & George Holopigian Memorial Fellowship, Armenian General Benevolent Union; MacArthur Fellowship;
Peace Studies Fellowship, Stanford University.
Education:
Ph.D., Political Science, Stanford University (1994)
M.A., Political Science, Stanford University (1991)
B.A., with Honors in International Relations, magna cum laude, Tulane University (1989)
Languages:
Russian (fluent)
French (reading)
Contact: bremmer@eurasiagroup.net
Twitter: @ianbremmer
BOOKS
The Fat Tail,
written with Preston Keat, is published by Oxford University press on March 9, 2009.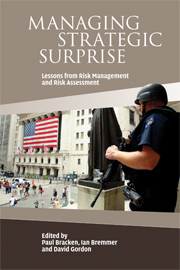 Announced Eurasia Group's annual list of Top Risks on January 7, 2008.
Was invited to speak by the Chicago Council on Global Affairs to speak on current political and economic issues at the Chicago Club, September 13, 2006.