THE INDEX – February 10, 2009
The polls open today in Israel to elect the eighteenth Knesset. With the conflict in Gaza still looming heavy and general uneasiness in the region, this vote seems unusually significant to Israelis. While some see the right-wing parties gathering the most votes, others wonder exactly who would want the poisoned chalice of the prime minister's office, given the tasks now at hand. With about 5.3 million people eligible to vote in this year's election, Benjamin Netanyahu's conservative Likud party appears to have the slight edge over Foreign Minister Tzipi Livni's centrist Kadima party, though both might need the support of Defense Minister Ehud Barak's Labor party to form what is almost certain to be a coalition government. 
Iran seems ready to talk to the United States, given a fundamental change in U.S. foreign policy. President Mahmoud Ahmadinejad, speaking today at a rally marking the thirtieth anniversary of the Islamic revolution that brought down the United States-supported Shah Reza Pahlavi, said in light of President Obama and his promise of widespread change: "It is quite clear that real change must be fundamental and not tactical…. The Iranian nation is ready to hold talks…in a fair atmosphere with mutual respect." Keeping in mind the forthcoming Iranian elections in June, Ahmadinejad's comments may be campaign tactic, but the current atmosphere between Iran and the United States seems the best it has been in years. Despite the moderate tone, policy ultimately lies in the hands of Supreme Leader Ayatollah Ali Khamenei, as he has the final say in all matters of state. 
The conflict in Sri Lanka continues with more reports of civilian deaths. Some in the region accuse the rebel Tamil Tigers (or LTTE) of keeping civilians in certain controlled areas to be used as human shields. Meanwhile, pro-LTTE websites have once again fixed their crosshairs on India for allegedly providing military assistance to the Sri Lankan government in their offensive against the Tigers. However, an opinion piece in The Telegraph (Calcutta, India), while not addressing the accusation of military assistance, outlines the overpower-them-with-numbers approach the Sir Lankan government has taken in this conflict and how tragic things are surely to become. All the while, presidents, international organizations, and other heads of state continue to urge a ceasefire and offer mediation. Neither side in the Sir Lankan conflict seems to be listening. 
French president Nicholas Sarkozy made a surprise stop in Iraq today during a tour of the region. He expressed French solidarity for the war-torn nation and promised support in the rebuilding process to Iraqi President Jalal Talabani, saying "France will be beside Iraq, from the beginning, on the path to success. The world is in need of a strong, united, and sovereign Iraq." Sarkozy promised cooperation in energy, rebuilding the economy, and security—despite France's fierce opposition to the 2003 invasion of Iraq. Sarkozy is the first French head of state to visit the country.
Chinese delegates before a United Nations Human Rights Council said that China does not censor online news and is committed to people's free expression but acknowledged that some sites may be blocked for "illegal content" that may incite rumors or civil unrest. The UN Council will publish a report, with non-binding recommendations, from Chinese testimony and from human rights activists. China receives heavy scrutiny for the way it treats journalists—both foreign and domestic—and for limiting their freedom to travel and report stories from around the country. According to the Foreign Correspondents Club of China, there have been 335 incidents involving the detention or harrassment of journalists since 2007.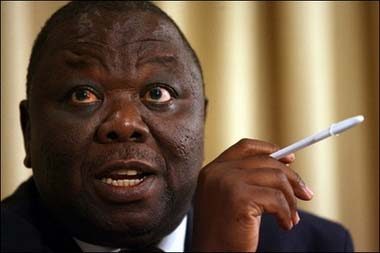 Zimbabwe opposition leader Morgan Tsvangirai wants "hard liners and technocrats" in the new coalition cabinet, according to The Daily Nation. The nominee for the finance ministry, Tendai Biti—who only last Friday had treason charges against him dropped—is a vocal critic of President Robert Mugabe. A nominee for the agriculture department is currently in exile in South Africa. Mugabe has not released his nominees yet, but if all goes to plan the new ministers could be sworn in as early as Friday. Tsvangirai, leader of the MDC party, and Mugabe agreed to form a coalition government almost two weeks ago.
Despite the new faces in Iceland's government, there's one leftover from the last administration who people hold directly responsible for the island nation's financial collapse. Central bank chief David Oddsson remains in control of the economy and passes demonstrators calling for his resignation during his daily commute to work, reports The Wall Street Journal. New prime minister Jóhanna Sigurdardóttir is proposing a law that will restructure the bank's governing hierarchy, requiring its chief to hold a master's degree in economics. Oddsson, a lawyer, says that he will not "run away" from his post and will serve until his term expires in 2012. Under Icelandic law, central bank governors cannot be outright fired by prime ministers.